Tags
Website,
Social Network,
Calendar,
Campus Service.

Tech
HTML / CSS,
AJAX,
Ruby on Rails,
MySQL





Tongshare is a social network system providing on-campus activities sharing service. It is popular for checking class schedule on mobile devices, querying available classrooms, organizing student activities and listing activity participants.

I acted as the technical leader, the web designer and and the front-end programmer in this project.



Achievements:

Launched in 02/2011 and has collected more than 1000 users in Tsinghua University last semester.
During the Centenary Celebration of Tsinghua University, Tongshare was the data source of the online celebration calendar integrated in the campus tour guide application for Android and iOS.

Official Website:

http://tongshare.net(May be inaccessible outside Mainland China)
Tags
Game Design,
Augmented Realilty,

Tech
Unity 3D,
Android,
NDK,
Java

A design for situated simulation game (a variant of augmented reality) connecting game world with the physical world. The key elements of such connection are automatic heading, locating and interacting with physical items. The idea is afterwards taken over by a start-up company. Its predecessor is

City Adventure

.

A demo of this design is powered by

Unity 3D

and is implemented for Android tablets. The demo uses gyro for automatic heading, GPS for locating and QR-Code for interacting with physical tags. (NFC is a better solution for reading tags but it is not supported by our devices. )
Tags
Mobile App,
Tour Guide,
Campus Service.

Tech
Android,
OpenGL ES,
NDK,
Tiled Maps,
Java,
C / C++


Tsinghua Tour Guide is an Android application of latest campus map of Tsinghua University, along with detailed introduction of buildings and attractions. It is a gift for the Centenary Celebration of Tsinghua University.

This project is based on an existing framework of tour guide application developed by

TouchChina

. I implemented the UI of the calendar view supporting multiple screens, and completely rewrote the map view using OpenGL ES so that large tiled maps can scroll and zoom fluently even in older Android devices. In addition, I implemented multi-touch gestures into the map view by using a reliable state machine to process finger events.

A demo of Tsinghua Tour Guide is available at

Android Market

.
Tags
Website,
Research Toolkit.

Tech
Silverlight,
Windows Azure,
XML,
SQL Server,
ASP.Net,
C#.


SIGMA Azure Machine Learning Toolkit is a library of advanced parallel machine learning algorithms. It is deployed on

Windows Azure

, Microsoft's cloud-computing platform, and is typically used to process large-scale data. It can be used by researchers to reduce data processing costs significantly and improve their efficiency and productivity.

As an intern in

Microsoft Research Asia

(MSRA), I designed and implemented the front-end, mainly a web-based user interface for SIGMA Azure.
Tags
Mobile App,
Contacts,
Social Network,
Campus Service

Tech
Android,
Java,
PHP,
MySQL.


LiveS Cube is a social network system built on mobile address books providing status sharing, information pushing and merchant searching. It has been released and overwhelming positive feedback has been received.

This project received official support and endorsement from Tsinghua University, and we are actively negotiating with a number of interested investors, including the Internet Society of China.

I designed and popularized the product, and worked with my fellow team members to implement and test the server and the Android client of LiveS Cube.

Official Website:

http://www.lives3.net

Official Website in English:

http://en.lives3.net(May be inaccessible outside Mainland China)
Tech
Android, Java,
OpenGL ES, NDK,
Maya API,
Augmented Reality.

City Adventure is a game demo to explore augmented reality games for mobile devices. The goal of this project is to help game designers integrate adventure stories into physical regions and makes it easy to perform task-driven travel guide and role playing games in the real world in assistance of mobile devices.

As the programmer of the Android client in this project, I implemented a simple 3D engine in native OpenGL ES and made use of accelerometers (or gyros if available) to realize automatic heading. I also developed a plugin for Maya to export models.

Project Host:

http://code.google.com/p/cityadventure/
Tech
XNA, XML, C#.


FireML is a XML-based language for describing plots and logic of ADV games (visual novels). It provides game designers with an elegant and intuitive way to create ADV games without requiring programming skills to describe complex logic. I implemented the compiler and the runtime interpreter with code assistance, serialization and friendly error reporting support for FireML, and called the system FireML Engine.

In addition, I designed a complete ADV engine Fire Engine to enables the possibility for artists and game amateurs to create their own games independently and use FireML as its script system. Fire Engine is under development.

Project Host:

http://code.google.com/p/firefromheaven/
Multi-touch smart gallery with facial recognition technology

FPGA-based motion tracking system
Animated Gundam model by Maya and Motion Builder
---
Powered by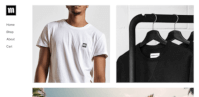 Create your own unique website with customizable templates.