Multi-touch Smart Gallery
I designed and implemented a multi-touch smart gallery with facial recognition technology, which organizes photos by grouping those with same person. The GUI provides interfaces for facial recognition, labeling, aggregation and searching. Through multi-touch interaction, users are able to use an innovative way to rapidly select a group of photos. Further enhancing the user experience, several gestures can be recognized using neural networks.
---
FPGA-based Motion Tracking System

| | |
| --- | --- |
| I designed and implemented the stepper motor controller module for a FPGA-based motion tracking system. The system captures video by a special camera, detects moving objects and controls the stepper motor to track those objects. All computing tasks in this system are performed by pure hardware without microcomputers. | |
Animated Gundam Model
Powered by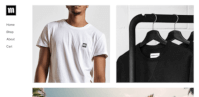 Create your own unique website with customizable templates.