Profile
Yang Liu
XR evangelist
Game developer
Interaction designer
​E-mail: yang.w.liu (at) gmail.com
[
Resume
] [
LinkedIn
]
My interests span across game development, mobile development, human-computer interaction, computer graphics and computer vision.
Site under construction...
---
Education
2011 - 2013 UC San Diego, Master in Computer Science

2007 - 2011 Tsinghua University, Bachelor in Computer Science

2008 - 2011 Tsinghua University, Second Bachelor in Art Design (Digital Entertainment Design Direction)
Skills
Programming Language: C/C++, Java, C#, JavaScript, PHP, Ruby, Python, ActionScript.
Android: User interface, NDK, native OpenGL ES, network and sensors; 3 projects done.
Web: HTML, CSS, Ruby on Rails and MySQL; 9-year web development experience.
Gaming: Kinect, Unity 3D, Cocos2d-x, XNA and Maya plug-in development.
.Net: WPF, Silverlight and ADO.Net; more than 2 projects done.

Playing violin & piano, music, photography, travelling.
Powered by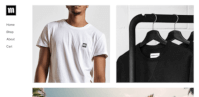 Create your own unique website with customizable templates.